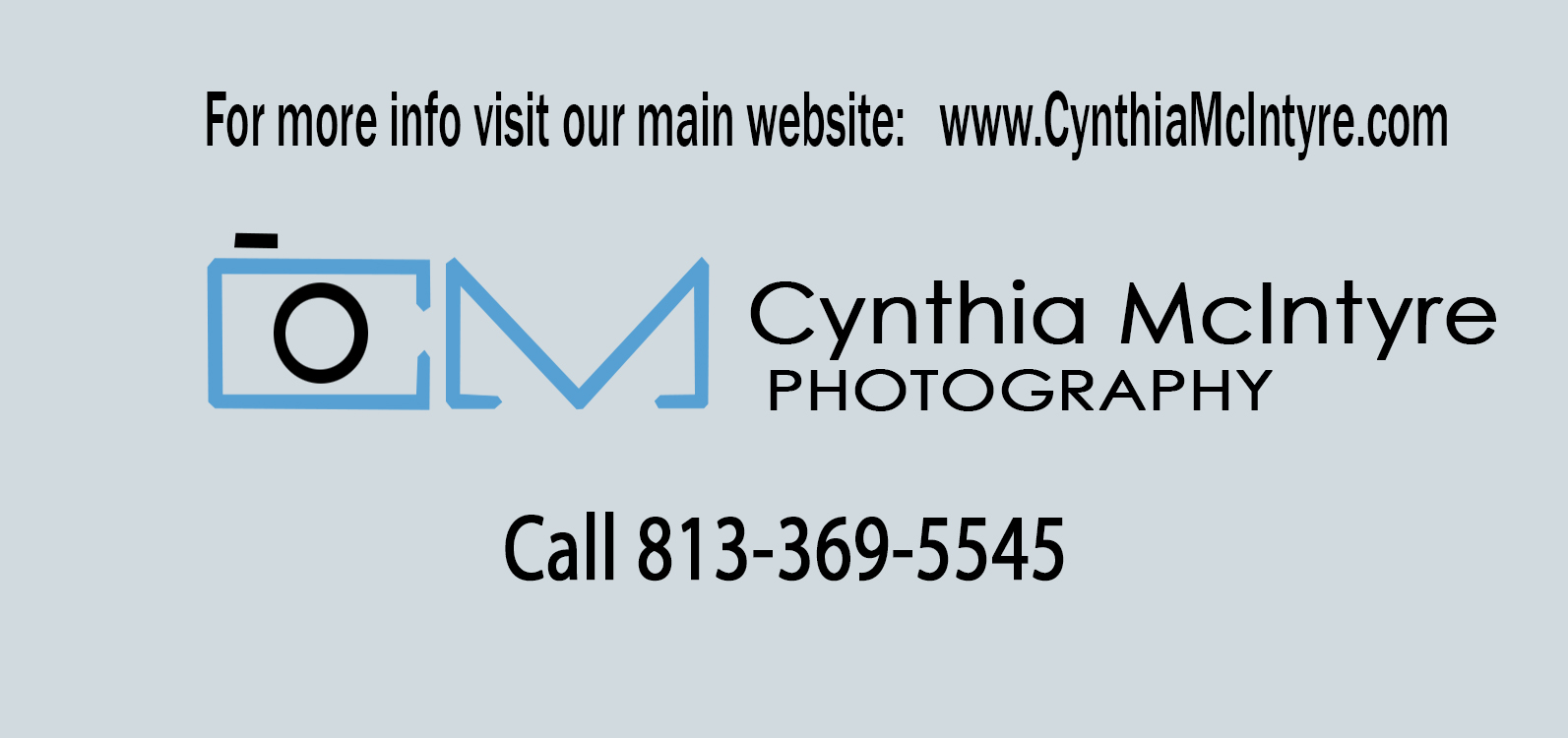 Professional Headshots Tampa
Is it time to update your professional headshots? Don't risk damaging your professional reputation and corporate "image" by having it done by anyone but a highly trained professional headshots  photographer.
Was your last headshot taken by your wife with her digital camera in your living room with the fireplace as a backdrop? When a potential client or potential employer views a headshot created in this manner, they may come to believe that you do not take your profession and career seriously.   Professional headshots tell the viewer that you are a trained professional with a no-nonsense approach to their job.
Professional Headshots Tampa knows how to create a headshot that will get you noticed.
Cynthia McIntyre Photography will create professional headshots that show you as confident, professional, intelligent, approachable, skilled and great looking! She does this with her expert use of lighting, posing and, of course, retouching.  How you are posed in your professional headshots says a great deal about you. Cynthia McIntyre uses her knowledge of non verbal communication or body language to pose you in such a way that you appear confident and self assured.  Did you know that a simple tilt of your head in the "wrong" direction can make you look meek and mild?  The placement of your chin, the tilt of your head, the look in your eye and the expression are your face play a vital role in how you will be perceived by someone looking at your final headshot.
Cynthia usually takes over 100 headshots during a typical session.  She creates headshots showing a variety of facial expressions so the client will have a nice selection from which to choose the best headshot for their professional use.  Too often, Cynthia McIntyre has found that people are unable to look at their professional headshots  proofs objectively.  That is why Cynthia always reviews all of the headshots she takes during a session with her client immediately following.  She explains to the client those things in the professional headshots that she feels is important. Consequently, the client can learn how to look at their headshots objectively too.  The client is never pressured into selecting a specific image- the choice is always theirs. However, her clients always express their gratitude at being given Cynthia's input into their selection.
Cynthia McIntyre Photography has 11 portrait studios in Tampa, Sarasota and St. Petersburg, Florida.
For more info or to speak directly with Cynthia McIntyre, CALL 813-369-5545


Professional Headshots Tampa
Photographic particular mastery would have all the earmarks of being a basic assignment for a specialist picture taker. Things being what they are, you are basically centering around a persons face, and quite possibly fragment of the arms. It's always key to expend suitable, yet positively consider sustenance and precisely how you address the body a week or more before your VIP headshot photograph shoot by Professional Headshots Tampa. The greater part of our run of the mill brightening plan comprise of three strobe lights with a forward strobe "hair light" utilized as required by Professional Headshots Tampa. We have to split that up by bringing some corner to corner lines into the photo so we can without much of a stretch do that by having the majority of our customer place their hand on their hip or in their pocket by Tampa Palms Headshots. I have found this to not just incorporate a touch of "state of mind" to the photo, be that as it may it additionally tends to make the customer feel more substance since I'm certain they've persevered through that path before by by Professional Headshots Tampa.
There are a lot of segments to be considered, especially picking a perhaps not along these lines diverting record. For a vignette impact on a sensible key back floor utilize a little illustrative reflector and perhaps a network animal dwellingplace or spot passages to center and direct the light in which you require it. Additionally, there are chances to use all the more close-ups and props for 2 individuals into the photo. The face ought to be indisputably the most indispensable part of the photo and with respect to begins going after consideration since we can start to see the back or palm of this hand, next we got the opportunity to switch things up. Get creative with where in reality the hands go — keep the hands close together and a technique we go! A considerable measure of people will have the regular motivation to incline in reverse in a photograph. Ever address the motivation behind why individuals get 10 pounds inside of the camera? It is on the grounds that we cut totally their specific entire environment around every one of them; constraining the greater part of our client to take up significantly more space in the structure I additionally saw exactly how to do characteristic veil! One of the various valuable things that film theater school will instruct is that training is key, and ought to continually be a piece of the occupation by Professional Headshots Tampa. Give me a chance to reveal my catalog of six things they neglected to specify in theater school: These photos are likewise perfect for long range interpersonal correspondence districts, press announcements and business flyers. Likewise, it's key your master picture taker have staggering interpersonal limits that are basic in offering you some help with feeling calm all through your session inciting better, significantly more character filled and typical headshots. Adornments can be a decent accomplice to your outfit, however ought not occupy from the face. Toning it down would be best. Neckbands seem best when they are speedier and copy the neck area of your shirt. Put on what you would for a decent night away by Professional Headshots Tampa.
Done well, however not overcompensated. The president of a petroleum planning business let me know I checked him numerous dollars at whatever point I conveyed association headshots for their 10 specialists at their particular association. Their time a long way from their work range had been around 7-8 minutes, separated to conceivably a hour each in case they expected to leave their drive and office to my studio, and right back by by Professional Headshots Tampa. Non-verbal communication is extremely huge in organization representations with Headshots Bradenton. No doubt, at whatever point a prospect perspectives your business representation on the web, they'll make suppositions as per what's directly before those. What's more, that incorporates perusing subtle elements into the non-verbal communication. Acting is business, as well. It's the one thing to be a phenomenal on-screen character, it's something else to be a "shrewd" star. Theater school is about the "workmanship." In this present reality, it's about the "business." Look at your advanced camera manual to check whether it's this component and the velocity it proposes. At that point simply ensure you are using a shade speed more rapidly than that by Professional Headshots Tampa. The other perspective to consider is your gap. More often than not for a picture, you covet the face in center as the history gets to be foggy. The gadget of lighting used in my picture studio is anything but difficult to fathom, simple to make utilization of, and it will help the greater part of our purchasers look their specific best. The light on the offered part connected to the face is booked to altogether over force the opposite part. Having the ability to see something and know it'll make a decent photograph is an extraordinary capacity to have. Lighting likewise assumes a crucial part for a representation's result. Indeed, even your appearance is indispensable. It is safe to say that you are a lawyer utilizing the photograph for notice/showcasing? Is it true that you are a government official running for work environment? On the off chance that you ought to be both, and need to show how troublesome you will be, you surely will need to avoid the top grins. Most government officials and lawyers would prefer not to indicate tremendous grins, however a delicate grin would be substantially more proper than a glower. . It's a 12 months after your headshot session and you can't take a few to get back some composure of your electronic photo document. Your expert picture taker wound up being your neighbor He took up photography in the part. Presently you're endeavoring to achieve him for your photo records. A dental practitioner better show excellent, enormous grin. Endeavor distinctive expressions, to find which you need. You will in all probability need to seem solid, however congenial by Professional Headshots Tampa. The expression and stance of a performing artist would be entirely not the same as that of a specialist.
REFERENCES:
http://www.ctheadshotphotographer.info